6 Indonesian Health Startups and Their Roles in Community
Indonesian health startups are becoming one of the more developed sectors in Indonesia. Health problems in Indonesia which are quite complex are certainly not necessarily solved if handled by the Government alone. Of course, there needs to be collaboration between the government, the community, and other private parties to find a solution.
When it comes to health, the Minister of Communication and Information, Rudiantara, once said that the health sector can be a great opportunity for a startup to develop. In Indonesia, there may already be many who know the name Halodoc and Alodokter.
But apparently, startups in the health sector are not just those two startups. Many other startups can be an alternative for those of you who want to use health services online.
Get to Know Indonesian Health Startups
1. Halodoc
Halodoc is one of the applications that provide solutions for health. On the Halodoc platform, there are already available several doctors who are ready to serve people who have complaints in health. Doctors are not only general practitioners, but also many specialists; such as skin specialists, surgery, obstetrics and gynecology, and others
With the chat feature, you can chat directly with the doctor you choose. Simply choose the doctor you want and following the disease being experienced. Halodoc makes it easy if someone in the condition can not yet see a doctor directly.
Through HaloDoc, consumers can conduct medical consultations using the video call (teleconsultation) feature, purchase of drugs through the first dispensary, and on-demand lab examinations.
However, HaloDoc will not replace existing health centers because consultation with a doctor at HaloDoc may not result in a diagnosis or prescription. The health services offered by Halodoc are available on the Android / iOS application. You can also find this service through the Gojek application.
2. Alodokter
You may already be familiar with this one startup. Alodokter is a health startup that was launched in 2014. Alodokter claims that the company is the number 1 health startup in Indonesia with more than 18 million active users every month.
Alodokter provides a variety of health services and health articles that can be accessed by its users. This startup was founded by Nathanael Faibis. Armed with his experience in managing and developing online businesses, Nathanael tries to present a variety of accurate information to the wider community related to health.
This received a warm welcome, considering that at that time no health portal could provide similar information. Alodokter is supported by a team of experienced and able to provide accurate information so that public trust in this health site is increasingly higher.
However, all of this is certainly not intended to replace the role of doctors in dealing with public health directly, considering Alodokter only provides consultation and various health information, and not providing medical treatment as befits the role of a doctor to his patients.
3. Good Doctor
This platform is certainly also often heard by Indonesian people. Good Doctor is a technology-based health service platform that focuses on providing complete medical health solutions for every family in Indonesia. Good Doctor partnered with Grab, the leading super app provider in Southeast Asia, to provide quality services to the people of Indonesia.
Through a Grab platform called GrabHealth powered by Good Doctor, there are three types of services provided by Good Doctor, namely: online health consultation services with doctor partners, presenting e-commerce services for health & fitness products, and articles- informative articles about health, fitness, and lifestyle curated by a team of doctor partners.
Good Doctor supports the Ministry of Health's mission of advancing application-based health services and building a digital ecosystem in the health sector and increasing access to quality health services for all Indonesians.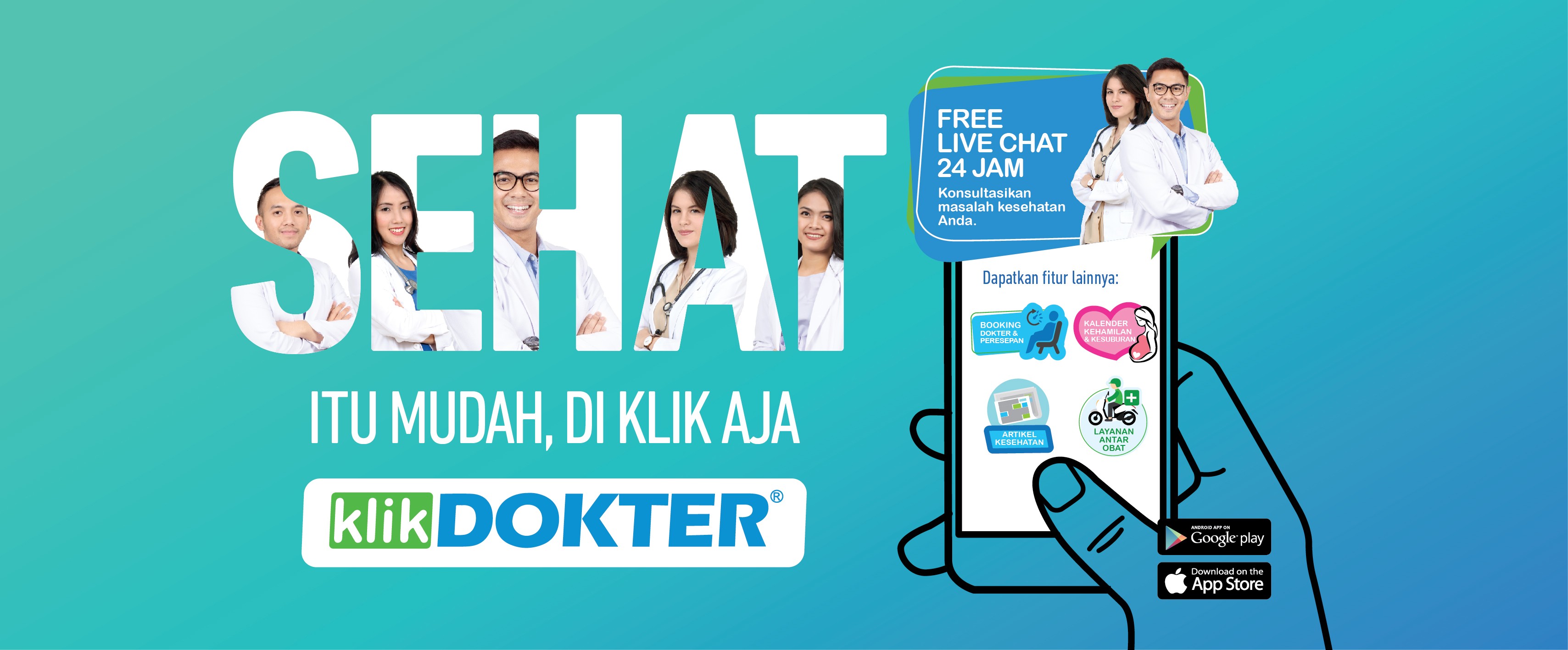 4. KlikDokter
KlikDokter is a startup that focuses on information and education portals on health managed by doctors and medical professionals. Just like an online health portal in general, KlikDokter provides a directory that lists doctors, hospitals, medicines, and pharmacies.
Specialist rubrics and health reviews become one of the differentiators of KlikDokter as a health information system. The portal also provides information about health terms, arranged in alphabetical order. Finally, KlikDokter together with Lifebuoy in collaboration to develop a mobile-based health education application.
5. ProSehat
ProSehat is an Indonesian health startups that focuses on a marketplace service to help consumers find and buy authentic medicines through e-Prescription and auto-refill subs. Apart from the desktop, ProSehat can also be accessed through a mobile application for Android devices.
This ProSehat application was developed by a team with a thick medical background. The team consisted of Dr. Bimo, Dr. Agnes, and Wiguni. The team also previously ran the TanyaDok health question-and-answer portal.
ProSehat itself was developed based on problems such as the long queue of drugs and the unclear process of redeeming prescriptions, stock of drugs that were not available either due to factory production or distribution, forgetting to buy prescription drugs which had to be routinely redeemed especially for patients with chronic diseases, drug safety and lack of knowledge about drug prices, etc.
6. Dokter.id
Dokter.id is an online portal that contains various health information. The online portal which previously had the name PilihDokter has several main features, including the discussion forum "Ask a Doctor", which allows visitors to have discussions with doctors directly, similar to an online forum.
In addition, visitors can also make a diagnosis (checking) health automatically by entering various information about the symptoms experienced. Dokter.id is currently also growing its existence as a directory of doctors and hospitals in Indonesia. Data distribution of doctors and hospitals began to be collected by this portal.
Carrying the Same Mission to Improve Indonesian Health Services
A large number of health startup players in Indonesia are none other than for the same mission; advance public health services. Until now, many people still have difficulty obtaining proper health services.
Startups in the health sector are always innovating to reach all levels of society. With the increase in public health services, the welfare of the community will also increase. Indonesian health startups also continue to bring up innovations to facilitate public access to health services.
(Read also: 10 Indonesian Edutech Startup that Provide e-Learning Solutions )