BukuKas Startup Received pre-Series A Funding from Several Investors
A digital finance management startup for Micro, Small and Medium Enterprises (MSMEs), BukuKas, pocketed pre-series A funding of US $ 9 million or around IDR 133.6 billion. This fresh fund will be used to expand products and markets in Indonesia.
The investment was led by Surge Sequoia India and Saison Capital. Speedinvest, S7V, January Capital, Cambium Grove Capital, Alter VC, and Taurus VC also joined in this funding round. With this additional capital, BukuKas has raised total funding of US $ 12 million or around IDR 177.2 billion.
The Co-Founder and CEO of BukuKas, Krishnan Menon, said that user growth has increased drastically since the company was established last year. However, he did not specify the increase or amount.
"About 73% of Indonesian MSMEs are currently in small cities, outside tier 1. We are committed to reaching them," said Krishnan as quoted in a press release, Wednesday (19/8).
He also noted that MSME business support products and services were still small. Therefore, BukuKas focuses on helping MSMEs monitor and manage cash flow effectively through digital applications.
In addition, it provides a bookkeeping solution to record sales, profits, expenses and accounts payable by business actors. This aims to improve the business performance of MSMEs.
The BukuKas Application is Claimed to Help Many MSMEs
BukuKas claims, the features in its application can help MSMEs increase cost efficiency by up to 20%. Additionally, it saves two to four hours per day. Currently, BukuKas has partnered with around 800 thousand MSME and retail players.
While the application is used in more than 700 cities in Indonesia. Quoted from TechInAsia, BukuKas has served more than 250 thousand traders as of April. Total transactions reached US$ 150 million or around IDR 2.2 trillion.
As is well known, the Bukukas startup was founded in 2019 by Krishnan M Menon and Lorenzo Peracchione. The existence of the Bukukas startup is intended to help MSME owners understand and manage their financial flows effectively with a free digital ledger mobile application.
Until now, there are around 900 thousand small traders and retailers who use the Bukukas application, and it is used in more than 700 cities and districts in Indonesia. According to Krishnan, the fund is planned to be used to expand its product offerings and "build its market leadership in Indonesia".
Krishnan assessed that many small businesses in Indonesia still manage their finances traditionally using pen and paper. They struggle for visibility and know nothing about the benefits they are making.
Therefore, the presence of Bukukas really helped them. Krishnan claims, during the eight months since its launch there has been growth. Although not mentioning exact numbers.
Bukukas as a Digital Solution for Business Bookkeeping
BukuKas is here as a digital solution for businesses to be able to do business financial bookkeeping practically and for free, and with guaranteed data security.
Simply by downloading the application through the Android PlayStore and following the instructions for use, business actors can take advantage of the various features offered in the application to do all things related to their financial management.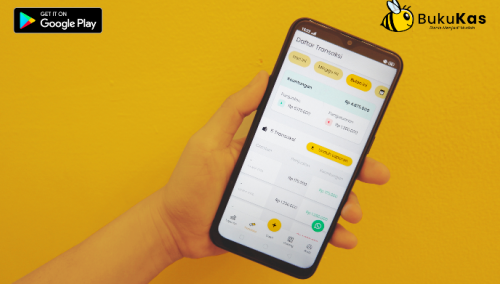 It is time for business people in this digital era to make changes in their business by utilizing this digital application, so that they are increasingly able to survive in the midst of fierce business competition, and even develop.
With BukuKas, business people can manage their finances practically and smoothly, and it's easy to monitor their business development anywhere and anytime because everything can be done in the grip of a mobile device.
Previously, the Bukukas startup in April 2020 received seed funding of US$ 3 million or around IDR 44.49 billion.